Illustration
Final and Concept Art for different projects including groups shows, work for hire and private use. Mostly ballpoint pen line art and ink; digitally colored.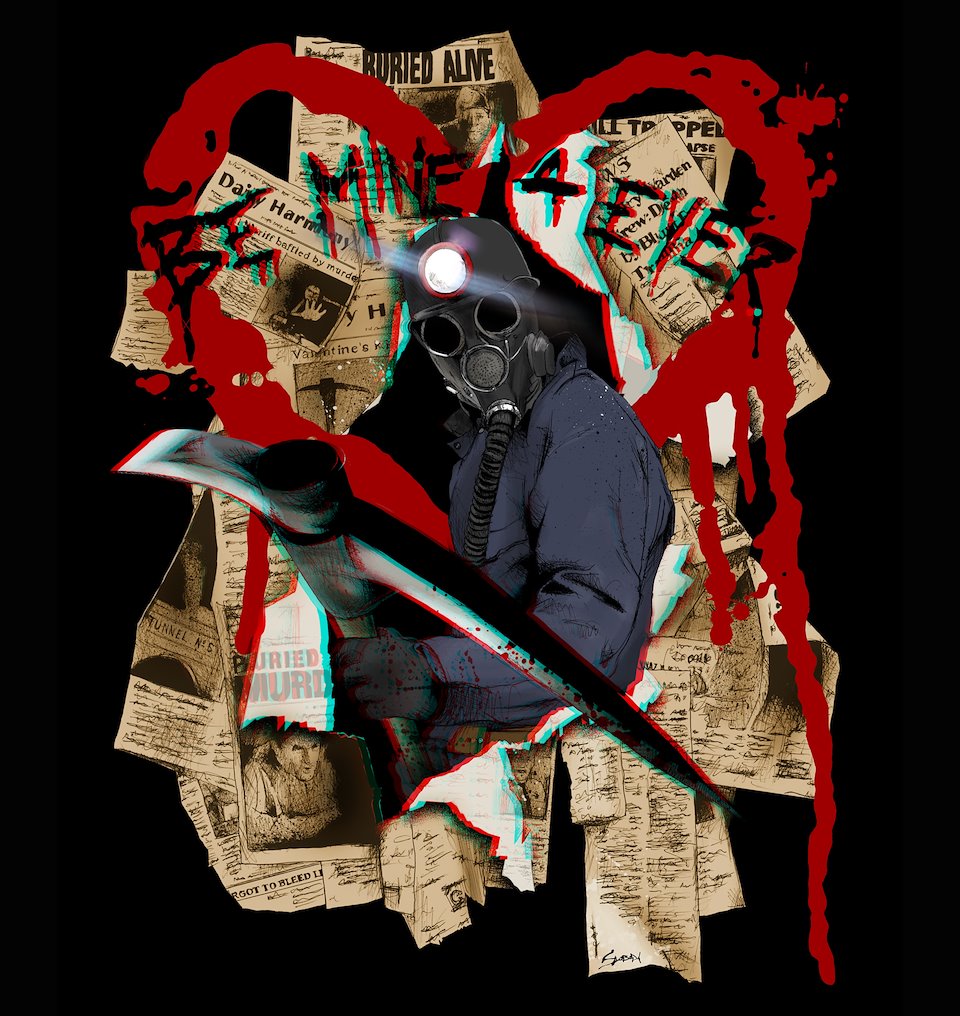 My Bloody Valentine 3D shirt for Fright-Rags.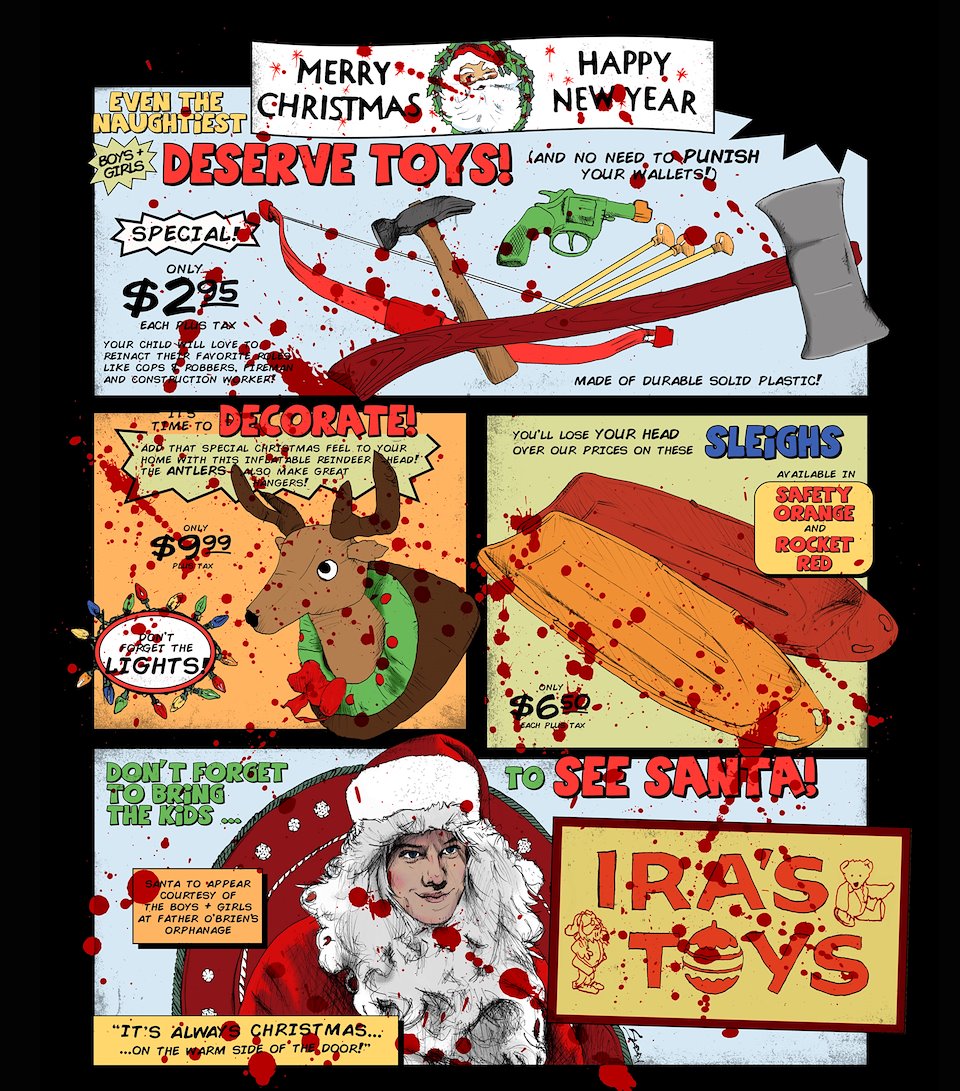 Ira's Toys ad inspired by Silent Night, Deadly Night. Shirt for Fright-Rags.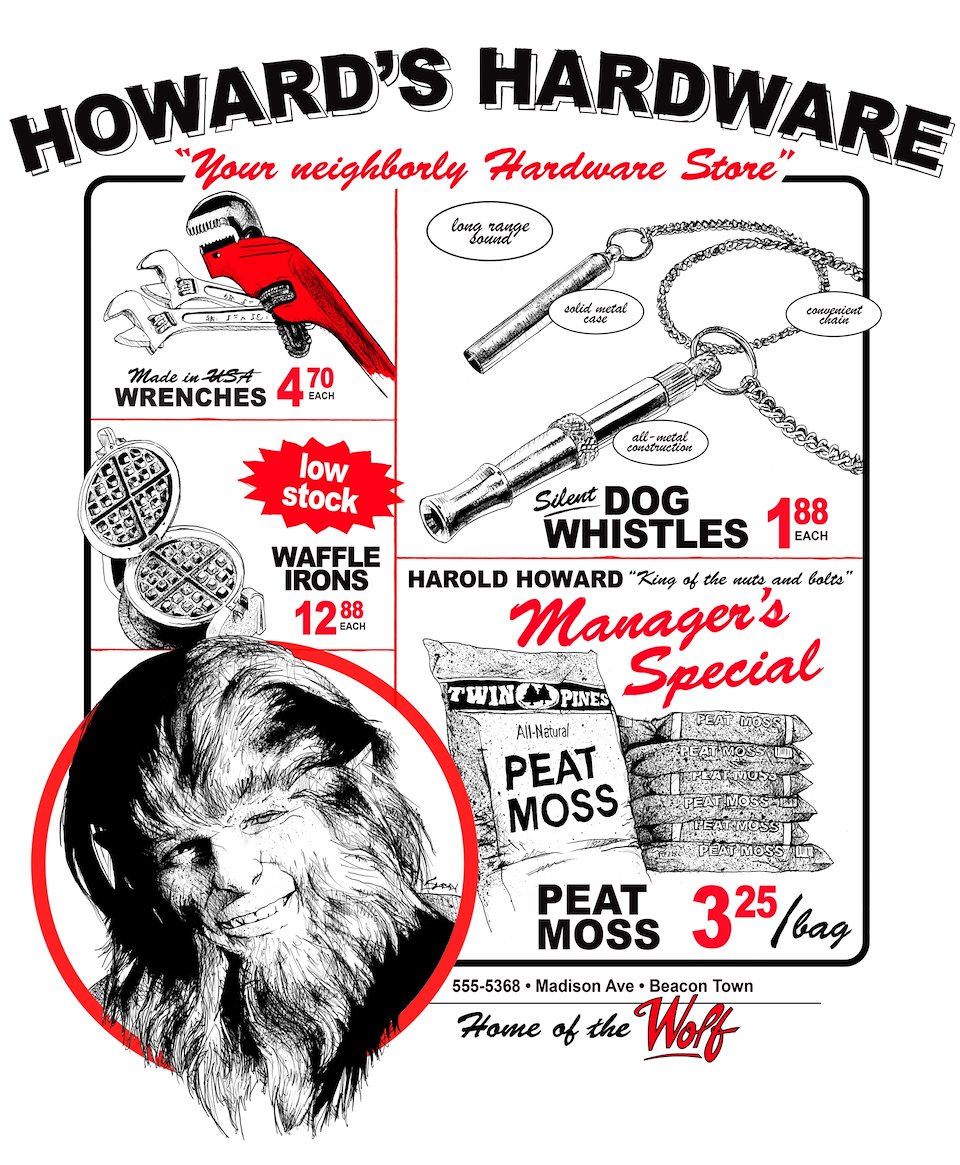 Howard's Hardware ad inspired by Teen Wolf. Shirt for Fright-Rags.
"Wonka Bar" for Alternative Movie Posters: Film Art from the Underground gallery show. 2016.
My Buddy… "Chucky" from Child's Play.
Commission for management company that books appearances for several Guardians of the Galaxy actors.
"X" – based on the revival run of the X-Files in early 2016.
"We All Float…" die-cut sticker art.
Mockup of the classic shot from The Shining meets the undead, for AMC.
Exclusive art to commemorate the Atlanta, GA shoot for Captain America Civil War (Summer, 2015). Prints were only given to cast and crew, including the film's directors.
"Bark at the Moon" featuring characters from MTV's reimagining of Teen Wolf.
"60 yrs. of Black Lagoon" done for group show at Creature Features gallery. Ballpoint + Digital printed on wood.
Illustration for custom game-boards for Rock and Roll Hall of Fame.
This is a special illustration I did to commemorate the Cleveland shoot of Captain America 2: The Winter Soldier during the summer of 2013. It features the major cast that was actually on set, as well as the working title of the film. I printed a small batch that were distributed to several crew members, including the directors at the Film's wrap in Los Angeles, CA.
"SSSssshhhh..." Original piece based on "nightmares from childhood" theme.
Personal holiday greeting card for clients/contacts, 2012.
Art for Metal Massacre VII in West Springfield, PA, 2012.
Shirt design for the Eerie Apparel at the 2011 "Eerie Horror Film Fest".
Final Art for annual music festival in West Springfield, PA. Used on posters and t-shirts.
Holiday card featuring model Christine Dolce in an homage to Bettie Page.
Mockup of parody take on Herb Alpert and the TiJuana Brass meets the undead, for AMC.
"POP(e) Art." Digital (vector) art commission.
Cover Art and inside page for "The Big Under." A fan-collaborative prequel to Christopher Nolan's movie Inception organized by DeviantArt.
Artwork for Sappy Bell's national debut, "The Nightmare Chronicles."
Artwork for Switched's sophomore album "Ghosts in the Machine."
Portraits done in scratchboard.
---
Role Graphic Artist, Illustrator

For Fright-Rags, ZSC Entertainment, Walker Stalker Con, the 501st Legion, AMC Television

Type Illustration