Posters
Originals & commissions for theaters, screenings, gallery shows, etc.
"Friends Don't Lie" from the Visions From the Upside Down: Stranger Things Artbook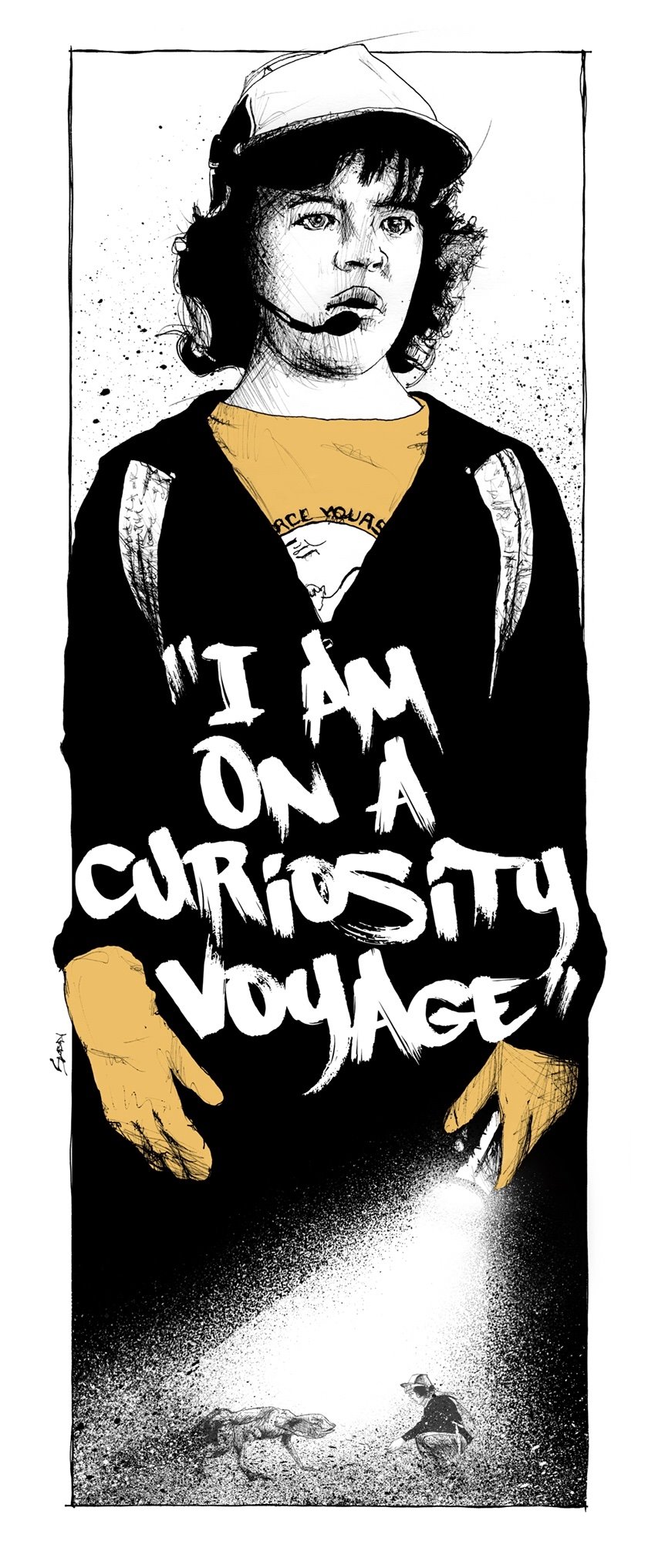 "I Am On a Curiosity Voyage" from the Visions From the Upside Down: Stranger Things Artbook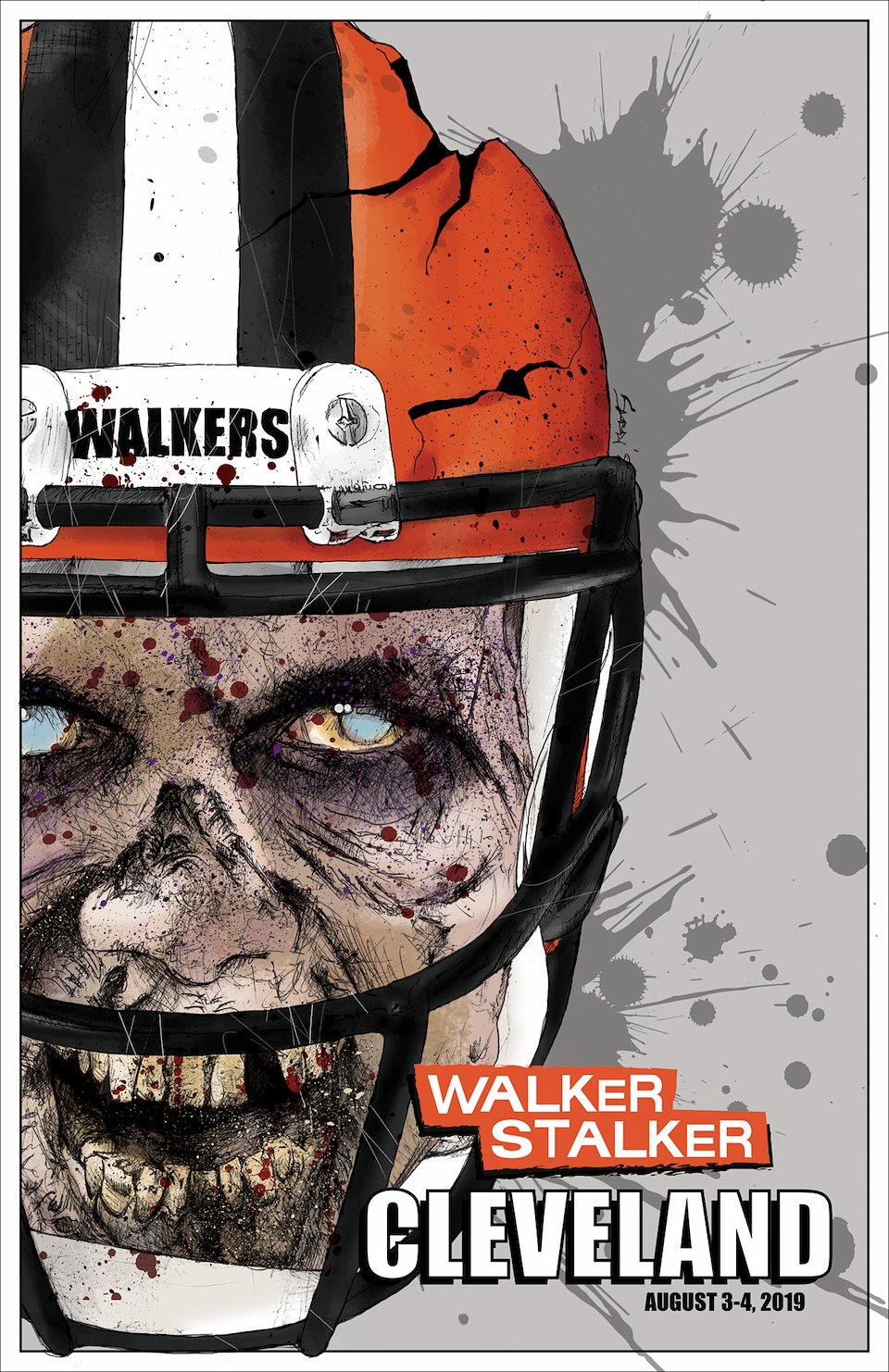 Walker Stalker Cleveland event poster (2019).
"Clue" alternative movie poster for Tribute to Tim Curry show at Creature Features gallery, 2018.
Poster celebrating the 35th Anniversary for John Carpenter's the Thing!!! Featured in The Thing Art Book, published by Printed in Blood 2017.
Poster for the 1985 version of Fright Night. Based on the old Vault of Horror / Tales From the Crypt comics.
Poster for John Carpenter's "Big Trouble in Little China" – featuring the main villain "Lo-Pan" and his minions, the "Three Storms."
"Hail to the King" poster celebrating many of the film/TV roles of actor Bruce Campbell. Created as an exclusive for "Bruce Campbell's Horror Fest" 2015 in Chicago.
Commissioned poster celebrating the career of character actor Peter Jason.
Poster for Cedar Lee Theatre's 25th anniversary of showing the Rocky Horror Picture Show with a live shadow-cast. Also being sold on-site as a limited edition shirt.
Official commemorative poster for Walker Stalker Atlanta Oct. 30-Nov. 1, 2015. Regular and variant color.
John Carpenter's PRINCE OF DARKNESS poster for the 25th Anniversary screening and celebration night at Screamfest LA 2012.
Annual Metal Massacre in West Springfield, PA concert poster. Digital.
Metal Massacre #9 poster. Ballpoint pen / digital.
Official commemorative poster (and variant) for Walker Stalker Con – San Francisco, 2015.
Unofficial poster for Thomas Jane's return as [the Punisher] in RAW Studios' "Dirty Laundry."
The red version/variant reveals more of the classic Punisher logo. Tom actually saw this poster and said, "Dude that's awesome! Nice work, pal."
Contest for Empire Magazine. "Men in Black III."
Ridley Scott's "Legend"...did this for 2nd Annual "Cinematic Redux" group show in Cleveland.
Poster for New Beverly Cinema's midnight showing of Let the Right One In.
Poster for Cleveland Cinemas' "Late Shift" series, 2011. Featuring monthly showings of Rocky Horror Picture Show and The Room.
Poster for New Beverly Cinema's 3rd annual "All Night Horror Show" featuring The Gates of Hell and Tenebrae.
Poster for midnight showing of "Pumpkinhead" at the New Beverly in Los Angeles. Presented by ShockTillYouDrop.com
Poster for ShockTillYouDrop.com's Halloween II fan contest.
Mix of penwork and digital art for Cleveland, OH show.
Poster for AintItCoolNews' contest celebrating the 2010 remake of The Wolf Man.
Re-imagining of the Willy Wonka poster for a group show "Cinematic Redux" in Cleveland, OH. 2010
Poster for Bruce Springsteen exhibit opening at the Rock and Roll Hall of Fame + Museum. This one did not get used.
---
For Cleveland Cinemas, ScreamFest LA, New Beverly Cinema, ShockTilYouDrop.com

Type Illustration, Design